Photo editing software helps you editing your Images
Easily edit photos with the photo editor Fotoworks XL
Fotoworks XL runs as photo editing software Windows 10 and is also compatible as a photo editing software Windows 7.

Now editing photos is fun again with the simple conversion of photo edits in Fotoworks XL. Long training phases, which often require other photo editing software, are not necessary with Fotoworks XL. The significant photo editor for Windows 10 in Fotoworks XL has very comprehensive features. With a few simple steps you will be able to create a photo collage. With preset effects you are able to make your pictures even more beautiful. So the photo editing is easy from the hand.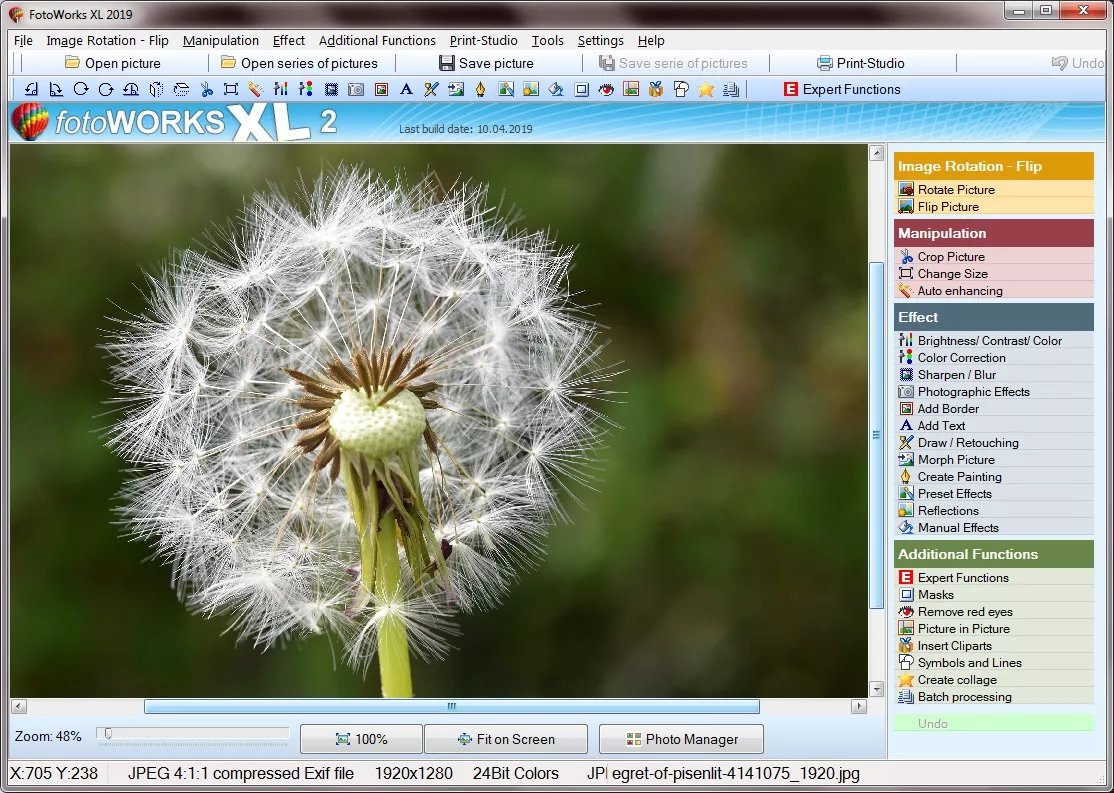 Image shows the photo editing software

Edit the light reflex effects with this photo editing software guide and other effects such as manual effects, clipart, masks or textures. Many photo software require complicated input for creating the right artwork. Fotoworks XL offers very easy settings for your personal printing options. The creation of photo albums or photo calendars is an easily solvable task.

A helpful and good image editor for Windows has effects such as lighten images and photos transparency. On the Internet to download are many photo editing software for Windows with the effects photos write text and images transparent. Occasionally these applications can be found on the websites of Personal Computer magazines. If you browse the Internet for a tool for picture editing, the installation of a shareware is suitable. This way, all possible software functions can be checked in advance before buying. You should think about what you need the picture editing software for. Do you have a simple software with the usual photo manipulation capabilities or need a professional photo editing software, in which you have to work long? Do you want to insert image effects like images clip art and photo clipart? Try it yourself: Here you can download the software and try it for an unlimited time. The app is designed as a Windows 8 image editor to download for free, photo editing software to edit image, create photo montage as well as to edit his photos.


Super easy photo editing software for photo editing
Without special knowledge, you can enhance multiple photos at once with Fotoworks XL photo editing software. It is possible to transfer the effects of your choice to several pictures at the same time. This makes editing multiple photos no longer a problem.

Perfect pictures with photo editing software Fotoworks XL
Your imagination has no limits with the photo effects of Fotoworks XL. With this image editing software you can improve the sharpness or perform a color correction. Also, improving the contrast or changing the brightness and color is possible when editing your photo.

The design of photos with texts or frames is with this image editing software also within the given possibilities. You can also draw morph and retouch through this photo editing software for Windows 10 and PC. These features add a special touch to your pictures.

With this innovative picture editing software for engraving an image it is easy for beginners and professionals to correct their beautiful photographs. Surely you have a photo-camera and have already shot many photos of your family, friends or your holiday and would like to improve the photos easily and easily now? In our offer there is the suitable and user-friendly picture program for you. Rounding out the software, which is shareware and not freeware, through many features such as the printing studio and the function of printing individual photo albums. On this page you can download the photo editing software for free. You are dealing with it, How to optimize red eyes in a photo and then print your pictures? By applying an innovative software a perfect image change is easy to accomplish! In addition, many good picture editing effects are included in the program such as make photos darker, image plasma effect, photo red-eye effect but also image swirling.


Red-eye retouching with Fotoworks XL photo editing software
If the people in your photos have red eyes, it's because your lighting was not good enough. The photo editing software Fotoworks XL which you can find on websites can help with this problem. Here you can easily repair red eyes and edit your picture. Adjusting the sharpness can also be done here. Sending photos has never been so easy with the free photo editor for Windows 10 download of Fotoworks XL you can convert your photos into any photo format and then send them directly by e-mail. Managing various file links is no longer a big hassle with this program. You can also directly read the photos from your digital camera.

A photo editing software for all occasions
Fotoworks XL can help you with any photo project you are looking for. It helps you to enhance and enhance your photos and is capable of processing many of your projects simultaneously. With this good photo editing software, the annoying processing of photos is easy for you and you can lead your projects faster to success. Creating photo albums, collages and calendars has never been so easy. Whether you already have years of photography experience or just getting started, the Fotoworks XL photo editor is the best companion for your journey.

A useful, simple photo editor for windows 10 download to edit pictures has effects such as retouching images and cropping images. There are a very large number of applications of this kind. Most of the freeware you will find on notebooks of computer magazines. If one rummages on the Internet for an application for image processing, the test download of free software is recommended. In this way, all the photo effects can be tested before a purchase. When downloading a program, it is advisable to decide on the exact area of application and to consider what the software should do. Do you want photo manipulation effects like photos collage or photo shadow? Rely on us. With us you can download the software and try it out. The tool is usable as an image editor for Windows 10 download for free, program for editing photos, photo editing software and also as to edit his own pictures.

Enhance images made easy with the cool unique photo editor for Windows 10
Looking for a photo editor I tripped over something nice. The easy photo editor for Windows 10 was especially made for all users who value a simple to use software for the Windows computer for picture correction, that is simple to learn on the one hand, but especially suitable for inexperienced consumer due to its large number of options. A special feature is the compact menu structure of software to edit photos. Therefore the computer tool is perfect for younger people as well as older people who want to manipulate their pictures. I use the image effects of this compact photo editor Windows 10 to improve my pictures! This app is a unbelievably useful and streamlined program for hobbyists and skilled people. More Information: https://perry.blogfree.net/.